Linux Kernel 5.9 came out as a fall kernel update. A new stable Linux Kernel 5.9 was announced by Linus Torvalds. This kernel version is a big release in terms of hardware, graphics and other performance updates. Some of the changes made: Radeon RX 6000 "RDNA 2" graphics cards, Intel Rocket Lake graphics, IBM's first work on POWER10 CPU development, various storage improvements and much more.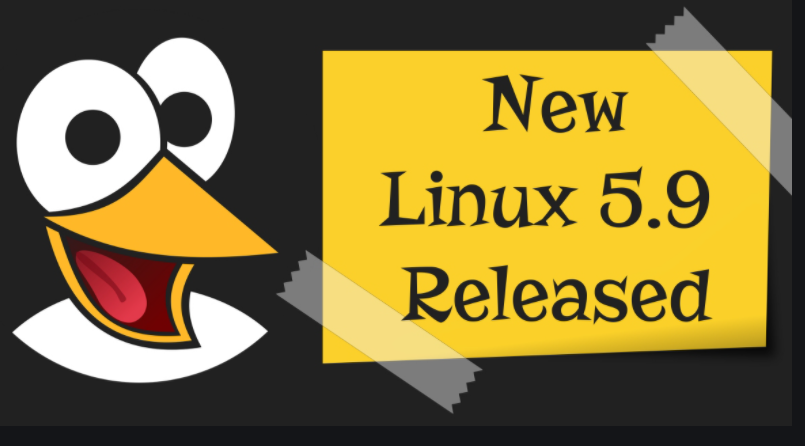 New Features
FSGSBASE support has been completed with this kernel release. It means you will get a high-performance boost for AMD and Intel systems. Because this support helps to change the content in the operating system without kernel interaction during heavy work.
Added support for Toshiba USB 3.0 adapter and MCT USB 3.0 adapter.
A number of performance improvements have been made for the IBM Thinkpad series.
Support for Radeon RX 6000 "RDNA" graphics card and Intel Rocket Lake graphics card.
The upcoming USB 4 feature is getting more support as work continues for full support in future kernel releases.
More support for storage and file system space. Btrfs looks like F2FS performance improvements. More support has been added for the NVMe 2.0 specification for SSDs.
IBM POWER10 processor sees first run for support.
With the optimized use of timer usage information, the performance increase for ARM / ARM64 devices is added similarly to Intel P-state push.
You can currently install mainline kernel packages on your latest Ubuntu or Ubuntu-based derivatives from the link below. However, it is not recommended to install this as it may break the current Ubuntu Linux system such as 20.04 LTS or Ubuntu 18.04 LTS.
https://kernel.ubuntu.com/~kernel-ppa/mainline/v5.9/
For general users, you should not update at this time unless you are willing to try out the latest hardware with support added in this release.
The Linux Kernel 5.10 development window starts with this stable release. The upcoming Linux Kernel 5.10 will be the last kernel of this year 2020.