In this article, we will explain the solution of the event id:1090 error on the Windows Failover Cluster. This problem is usually; The cluster configuration database contains basic information for the Failover Cluster functionality. A copy of the database containing the data of the cluster configuration is kept on each "node". If the "core" configuration for the cluster contains a "Witness" disk or common area, a copy of the cluster configuration database is also kept in the "Witness" area. The Windows Failover Cluster service also replicates this data to all locations where the latest version of this database, which holds the cluster configuration information, is stored. When this error is encountered, the following situations occur.
Windows Cluster service does not start.
Failover Cluster Manager cluster environment is not displayed.
If there is an Exchange Server DAG structure, all databases will be dismounted.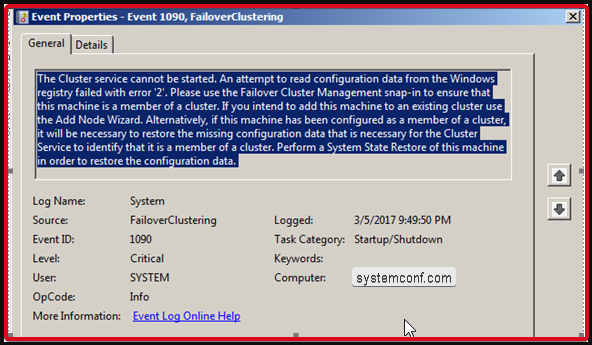 Resolution of Event ID 1090 Error
First, I run the PowerShell application in administrator mode with the following command. This command forcefully cleans the node when the Cluster service fails.
Cluster Node "ServerName" /ForceCleanup
Secondly, I restart the Exchange server's operating system and run the following command in the Exchange Management Shell to add the node back to the Cluster environment.
Start-DatabaseAvailabilityGroup "DAG01" -MailboxServer "EXC01"
Start-DatabaseAvailabilityGroup "DAG02" -MailboxServer "EXC02"