Nessus is a comprehensive vulnerability scanning software. Free for personal and non-institutional use. By means of the scan profiles to be created, a whole network or specific hosts can be searched and security vulnerabilities can be discovered. Nessus Professional, Nessus Manager, Nessus Home and Nessus Cloud versions are available. It provides detection of security vulnerabilities and malware in physical, virtual and cloud environments.
Before starting the installation, please register on the Nessus page and let the activation code come to our e-mail address.
https://www.tenable.com/products/nessus-home
Installation Steps
First, we connect to Nessus own site and download our installation file according to our operating system.
http://www.tenable.com/products/nessus/select-your-operating-system
Enter the necessary command to start the installation process and press enter.
dpkg -i Nessus-6.10.8-debian6_amd64.deb
After the installation of Nessus, we run the Nessus service.
sudo service nessusd start
Then we will activate it by typing https://localhost:8834 or the local ip address instead of localhost.
Here we set username and password.
Here we enter the activation code from the email.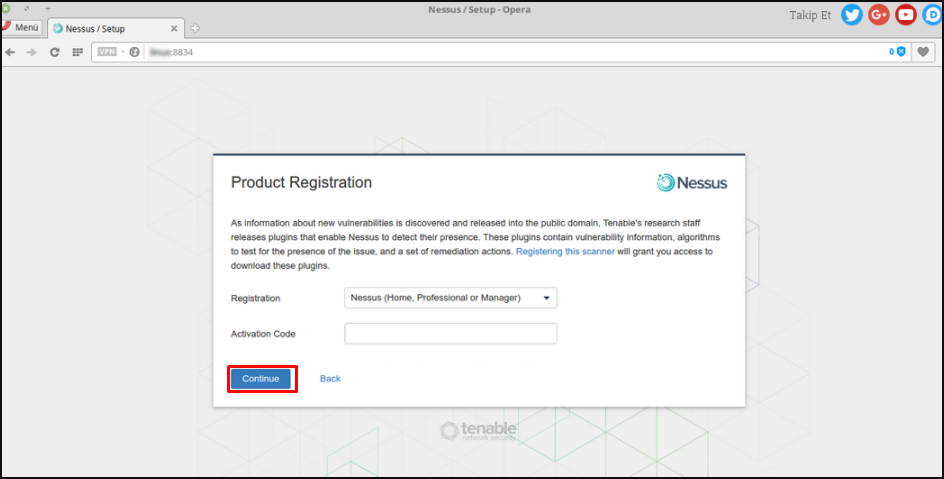 Finally, the Nessus login screen has arrived and we can now log in.